Exams took precedence in the college basketball world last week. Appearances from the best players in the nation were scarce, yet there were still memorable moments and ample movement in this week's Naismith Watch.
ICYMI: Last week's Naismith Watch
Josh Hart, Villanova (20.1 ppg, 6.5 rpg, 3.7 apg)
The Wildcats played just once last week, but Hart delivered what is becoming an expected output: 26 points on better than 50 percent shooting, three steals and three assists. Hart is the driving force behind the nation's second-best offense, per KenPom's adjusted efficiency. His shot selection reflects modern basketball philosophy. He's attempted 136 field goals and launched all but 24 from beyond the arc or at the rim. When you consider he's converting 45 percent on 3s and 73 percent at the rim, it's clear to comprehend his value in Jay Wright's offense.
RELATED: College basketball All-Week team
Frank Mason III, Kansas (20.3 ppg, 5.6 apg, 4.6 rpg)
Prior to 2016-17, only eight players since 1993-94 finished a season averaging 20 points per game, 5.5 assists per game and 4.5 rebounds per game. Evan Turner (Ohio State, 2009-10) is the only one to accomplish the feat while playing for a Power 5 conference school. Mason (and Washington's Markelle Fultz) are on track to join the list. Mason, who had 18 points, seven assists and six rebounds against Davidson last week, is also shooting the best percentage of his career on 2-pointers, 3-pointers and free throws.
Lonzo Ball, UCLA (14.3 ppg, 8.7 apg, 5.9 rpg)
The fifth-leading scorer on his own team is the third-best player in the nation. Nobody does more for their team than Ball, a brilliant 6-foot-6 point guard. The unbeaten Bruins are electric on offense, scoring at an incomparable rate. They are second in the nation with 96.9 points per game. They lead the nation with 1.26 points per possession — which is easily the best in college basketball in the last 15 years. They're making 44 percent of 3-pointers (third) and 63 percent of 2-pointers (first). Ball, who is second in the nation in assists, has an offensive rating of 133.5.
| | Best offenses since 2001-02 | |
| --- | --- | --- |
| School | Season | Points per possesssion |
| UCLA | 2016-17 | 1.261 |
| Wisconsin | 2014-15 | 1.211 |
| Missouri | 2011-12 | 1.208 |
| Creighton | 2013-14 | 1.205 |
| Ohio State | 2010-11 | 1.197 |
Malik Monk, Kentucky (21.9 ppg, 2.4 rpg)
You might have heard, Monk scored 47 points against North Carolina on Saturday. It was the most points scored against the Tar Heels in 64 years. He shattered the Kentucky freshman scoring record by 12 points. He accomplished this all quite efficiently, making 18 of 28 shots.
Monk has one of the sweetest long-distance strokes in college basketball. He has the height and length to launch his shot over defenders. Yet, it's inside-outside balance that makes him so difficult to cover. He's attempted 89 2-pointers and 90 3-pointers. He's made 58 percent of 2-pointers and 42 percent of 3-pointers. And, he's been at his best in the Wildcats' two games against top-10 opponents (UCLA and UNC). The left side of the floor treated Monk well against the Tar Heels:
Monk shot chart vs. UNC: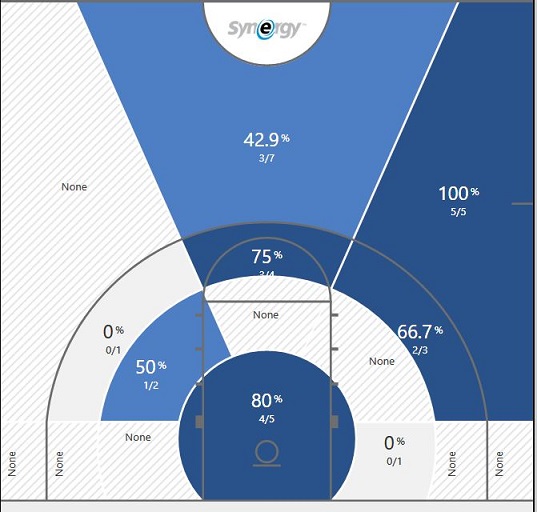 De'Aaron Fox, Kentucky (15.9 ppg, 7.2 apg, 5.3 rpg)
Is it possible for a player, a freshman no less, to be overlooked after producing 24 points, 10 assists, four rebounds, two steals and two turnovers in a thrilling three-point victory over a top-10 opponent? In this strange case, yes. Fox was overshadowed by his classmate and backcourt mate Monk. Still, the dynamic lefty point guard destroyed the Tar Heels' post players in pick-and-roll situations. Then again, when the ball in in his hands, points shall follow. The Wildcats have scored 1.32 points per possession on the 278 possessions where he took a shot or dished an assist, per Synergy.
Luke Kennard, Duke (20.0 ppg, 6.1 rpg, 3.6 apg)
The Blue Devils haven't played since they smashed UNLV by 49 points on Dec. 10th. They return to action Monday night, playing host to Tennessee State (8-2). It's possible freshman Harry Giles will make his season debut. Adding an athletic 6-foot-10, 240-pound power forward to the rotation helps Duke, obviously, but it could have an adverse effect on Kennard's playing time, shot quantity and production. Regardless, to this point he's been Duke's most consistent perimeter option and one of the best players in the nation, shooting 61 percent on 2-pointers, 41 percent on 3-pointers and 89 percent on free throws.
Joel Berry II, North Carolina (15.6 ppg, 4.9 apg, 3.9 rpg)
The Tar Heels scored 1.05 points per possession without their point guard Berry in games against Davidson and Tennessee. He returned to action Saturday in Las Vegas and the Tar Heels scored 1.27 ppp in an epic 103-100 loss to Kentucky. Berry, a junior, had 23 points, seven assists and five rebounds, connecting on nine of 15 shots from the floor. On several occasions in the first half, it looked as if Kentucky had seized momentum and was establishing a double-digit lead. Berry II answered for the Tar Heels, taking the ball hard to the basket and showing no signs of discomfort. With him on the floor, UNC is a viable national championship contender.
Caleb Swanigan, Purdue (16.8 ppg, 11.1 rpg, 3.1 apg)
Swanigan has nine double-doubles in 11 games. He's become a dangerous 3-point threat (9-of-15) and improved in each aspect of basketball. On Saturday, he not only had 26 points and 11 rebounds, but his defensive agility played a key role as Purdue rallied from a 14-point halftime deficit to beat Notre Dame. Purdue coach Matt Painter used Swanigan at center in a smaller lineup for most of the final 20 minutes. The Irish managed only 29 points on 38 percent shooting in the second stanza, committing seven turnovers and hitting 1-of-8 from beyond the arc. Swanigan has a stellar 89.2 defensive rating this season. He's been the Boilermakers' primary defender on 84 possessions, per Synergy, and yielded only 40 points, placing him in the 96th percentile at 0.476 points per possession.
Alec Peters, Valparaiso (25.6 ppg, 9.7 rpg)
We're using this spot to highlight a slightly under-the-radar performer each week
Valpo is 9-2 with wins over Rhode Island and BYU, who are both top 60 in KenPom. The Crusaders lost to Kentucky (4) and Oregon (21). They're favored to make another strong run through the Horizon League — they were 16-2 last season — and secure the NCAA tournament bid they narrowly missed a year ago. Peters, an honorable mention AP All-American last season, discarded an early-season 3-point drought and has terrorized foes, scoring at least 20 points in all 11 games. He takes 33 percent of Valpo's shots and drawing 7.2 fouls per 40 minutes, waltzing to the free-throw line where he's swished 79 of 83 shots (95.2 percent).