Here at the Naismith Watch, we've paid close attention to the national player of the year race for many years. It is our primary purpose, after all. And we can never recall a race so hotly contested at such a late date in the college basketball season. There's a strong case to be made for the top four contenders. Each player possesses a slightly different skill set, his own strengths and weaknesses. The fifth man featured here? He's been the most consistent player on the best team in the nation's strongest conference.
So, enjoy the battle over the next month.
We receive our first official dose of clarity Thursday, when the Atlanta Tipoff Club releases the Midseason Watch list, paring the list to 30 contenders.
Frank Mason III, Kansas (20.4 ppg, 5.2 apg, 4.3 rpg)
The senior point guard had 51 points, 11 assists, 10 rebounds as the Jayhawks split two games last week. His production and efficiency have been ridiculous in Big 12 action. He's hit 26 of 45 3-pointers, yet he has also drawn 5.5 fouls per 40 minutes and hit 83 percent of the free throws.
Mason ranks in the 92nd percentile in the nation in halfcourt scoring (1.059 ppp). This shot chart shows all 218 shots attempted and how he thrives from the top of the key to the left side of the floor.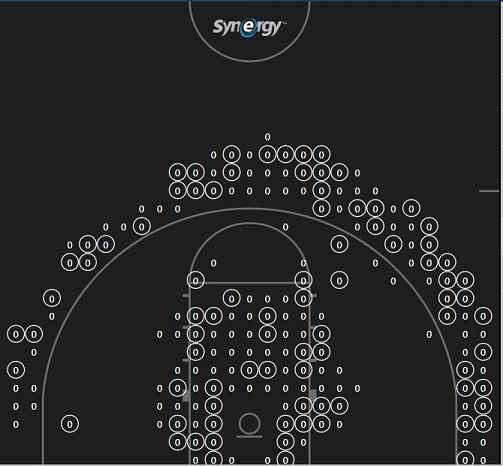 Caleb Swanigan, Purdue (19.1 ppg, 12.8 rpg)
We're running out of ways to describe Biggie's incredible season.
He delivered 26 points and 10 rebounds in a one-point road victory over a 20-win Maryland team to record his 20th double-double this season. All of a sudden, David Robinson's seemingly unbreakable record of 31 might be within Swanigan's 7-foot-3 reach. The Boilermakers (19-5, 8-3) have seven regular-season games remaining. Add in (possibly) three more in the Big Ten tournament, followed by some NCAA tournament games, and the math works. Having a host of talented shooters scattered around him only aids his — and his team's — chances. Purdue is third in 3-point shooting (42.3 percent, 9.7 3s per game).
Swanigan is the only player from a Power 5 conference school in the top five nationally in defensive rebounding rate.
| | |
| --- | --- |
| Player | Def. Rebounding Rate |
| Steve Taylor, Toledo | 35.3 |
| Rokas Gustys, Hofstra | 34.4 |
| Caleb Swanigan, Purdue | 33.2 |
| Tim Kempton, Lehigh | 31.4 |
| Amadou Sidibe, Fairfield | 31.2 |
Josh Hart, Villanova (18.9 ppg, 6.6 rpg, 3.4 apg)
The Wildcats cruised past Providence and St. John's last week to improve to 22-2 overall and 9-2 in the Big East, one game ahead of Xavier in the loss column (the teams meet Saturday in Cincinnati).
For all of Hart's individual ability, his career has been synonymous with winning. Sports-reference.com credits Hart with 20 win shares in his career. He's helped Nova to a 119-15 record, including 57-8 in the Big East. His class has won more games than any in Villanova history. It became the first class to roll through the Big Five unbeaten. It has earned a No. 1 or No. 2 seed in the last three NCAA tournaments. And, there was a certain championship game in Houston last April that turned out well for the Wildcats, as Hart reminded his Twitter followers Sunday night after New England completed the best comeback in NFL playoff history.
Second best game at NRG stadium this year.....

— Josh Hart (@JoshHart_3) February 6, 2017
Lonzo Ball, UCLA (15.1 ppg, 7.8 apg, 5.8 rpg)
The long-awaited showdown never materialized between Ball and fellow phenomenal freshman point guard Markelle Fultz of Washington.
Fultz had another great individual game, but Ball's much stronger supporting cast fueled a 41-point rout. Ball had 22 points, six rebounds, five assists and four steals.
The Bruins have a slim lead over Oklahoma State (125.4 to 124.8) in the race to win the national adjusted offensive efficiency crown (KenPom.com).
Here's how the best offensive teams have fared in recent NCAA tournaments:
| | | | |
| --- | --- | --- | --- |
| Season | School | Adj. Off. Eff. | NCAA tournament |
| 2011-12 | Missouri | 122.4 | Lost 1st round |
| 2012-13 | Michigan | 120.2 | Runner-up |
| 2013-14 | Duke | 124.1 | Lost 1st round |
| 2014-15 | Wisconsin | 127.0 | Runner-up |
| 2015-16 | North Carolina | 123.3 | Runner-up |
Next 4
Justin Jackson, North Carolina - The smooth 6-foot-8 junior has scored 16 to 26 points in the Tar Heels' last 11 games, and the defending ACC champions are leading the standings before heading down U.S. 15-501 to face Duke on Thursday night (8 p.m. ET, ESPN).
Jackson is realizing his potential as a dynamic scorer this season, and the explanation for his six-point improvement is simple: He's attempting more 3-pointers and making more at a higher rate.
Last season, 29 percent of his shots were 3s and he made 29 percent. This season, 46 percent are 3s and he's made 39.8 percent. Jackson's accuracy at the rim has declined slightly, per hoop-math.com, but he's an efficient scoring machine due to his newfound long-distance prowess.
Josh Jackson, Kansas - The freshman forward averaged 19 points and 10 rebounds as the Jayhawks nipped Baylor and lost to Iowa State in a pair of home games last week.
Luke Kennard, Duke - He's shooting 58 percent on 2-pointers, 51 percent on 3-pointers and 82 percent on free throws in the ACC this season. He averaged 13 points per game in two Duke wins last week.
Nigel Williams-Goss, Gonzaga - The dynamic point guard sprained his ankle in the first half of a convincing win over BYU yet still scored 33 points. He sat out the Zags' 35-point weekend romp over Santa Clara.
The Naismith Watch received an interesting dispatch last week from a reader, who was concerned about the dearth of big men listed here. 'Twas a valid point. We have nothing against the big guys. The problem? Picking only one. So here's a blind résumé, if you will. Pick your favorite profile. The answer is at the bottom of the page. Defensive rating is the differential between team's points allowed per possession with the player on the floor and without him. Higher is better. (Hint: A national TV analyst just cited Player B as the favorite for Defensive Player of the Year).
Team SOS

Record

PPG

RPG

2PFG

FT

Def.

Rating

Diff.

Off.

Rating

Player A

16

14-9

17.6

9.3

61.0

72.4

+6.0

119.7

Player B

47

20-3

14.7

9.1

61.5

50.5

+10.4

117.4

Player C

6

20-3

16.2

9.8

51.3

71.6

+1.2

110.2

Player D

198

21-2

16.9

9.5

62.5

71.9

+3.6

121.2
Somewhat Under-the-Radar Star
Evan Bradds, Belmont (21.2 ppg, 8.7 rpg)
The 6-foot-7 senior from Jamestown, Ohio, has attempted 978 2-point field goals in his four seasons at Belmont. He's made 668 (68.3 percent).
You know it's been an outstanding career when you're shooting 62.2 percent as a senior and it's a career low. He's also taking 10.6 shots per game — 2.2 more than last season when he averaged 17.3 ppg and was Ohio Valley Conference Player of the Year — and has career highs in assist rate (18.6) and free-throw shooting (77.1).
As great as Bradds has been, his career is merely a whisper when compared to Gary Bradds, his grandfather. He averaged 30.6 ppg and 13.4 rpg for Ohio State in 1963-64 and was the national player of the year, reeling off six consecutive 40-point games. Nobody has worn his No. 11 for the Buckeyes since.
Answers to the big man question above:
Player A: John Collins, Wake Forest; Player B: Ethan Happ, Wisconsin; Player C: Johnathan Motley, Baylor; Player D: Jock Landale, Saint Mary's