In case you missed it, the Atlanta Tipoff Club released the Midseason 30 last Thursday. Only players on the watch list are eligible to make the cut of 10 semifinalists, which will be released on March 1st, leading up to the winner being revealed during the Final Four.
Also, there's Big(gie) news at the top this week.
Caleb Swanigan, Purdue (19.0 ppg, 12.8 rpg, 2.8 apg)
Swanigan's paint production is unmatched and his versatility is rare. So slide down shorter fellas and make room for a big man.
Marcus Mann of Mississippi Valley State (1995-96) is the only other Division I player since 1993-94 to average 19 points, 12 rebounds and shoot 45 percent or better on 3s, per sports-reference.com
The Boilermakers didn't make the committe's top 16 teams in Saturday's announcement, but they came it at No. 16 in Monday's AP poll. Biggie and Co. enjoyed a rare Saturday off in February but earlier in the week vs. Indiana he recorded his nation's best 21st double-double.
Synergy Sports rates each player's efficiency and production in each aspect of basketball with these six labels: Poor, Below Average, Average, Good, Very Good, Excellent.
Swanigan is Very Good or Excellent in the following areas: Post-ups, cuts to the basket, putbacks, transition, spot-up shooting and as the roll man in the pick & roll.
This chart shows Swanigan's 284 shot attempts in the halfcourt and that 82 percent were either 3s or at the rim.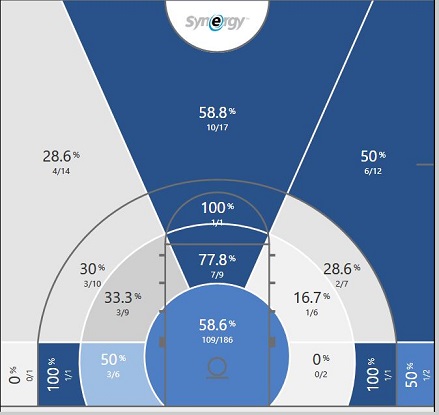 Lonzo Ball, UCLA (15.4 ppg, 7.6 apg, 6.0 rpg)
Take a minute and enjoy all the Lonzo Ball highlights as he guided the Bruins back from a 19-point deficit to beat Oregon. Ball had a season-high 11 rebounds and stays on track to become the third college player in the last 24 years to average 15 points, seven assists and six rebounds, joining Jason Kidd of Cal (1993-94) and Denzel Valentine of Michigan St. (2015-16).
(Also enjoy the Bill Walton commentary. For the record, Walton had 1,767 points, 1,370 rebounds and two national championships in three seasons).
Josh Hart, Villanova (18.8 ppg, 6.7 rpg, 3.4 apg)
Jay Wright secured his 500th career victory in sweet fashion Saturday, heading to Xavier and pounding the Musketeers as Villanova secured its grasp on the No. 1 overall seeding, per the NCAA tournament selection committee.
Hart has been a part of 124 of those victories.
He's top 20 in the Big East in virtually every advanced statistical category at KenPom.com and averaged 18 points, seven rebounds and four assists as the Wildcats swept two games last week to improve to 24-2.
Wright enjoys diagramming plays for his senior wing and Hart delivers, scoring 61 points on 58 possessions after a timeout (1.058 ppp).
Frank Mason III, Kansas (20.1 ppg, 4.3 rpg, 4.9 apg)
Mason III is the only Kansas Jayhawk since (at least) 1993-94 to average 20 points, four rebounds and four assists per game.
While his 2-point finishing rate has suffered against conference opponents, he's continued to sizzle from long range, hitting 30 of 54 (55.6 percent). Mason III is the only Big 12 player since '93-94 to shoot 50 percent beyond-the-arc and make at least two 3-pointers per game.
The Kansas point guard fought through illness Saturday and played a season-low 26 minutes in the 70-69 win over Texas Tech. It was the fourth time in six games he's recorded an offensive rating below 100 (season average is 123.3).
Josh Jackson, Kansas (16.6 ppg, 7.0 rpg, 3.0 apg)
Remember when people were worried about the freshman forward's 3-point shooting? Jackson hit 4 of 7 from 3-point range last week to bump his season average to 36.4 percent. He also averaged 24.5 points and seven rebounds in the two KU victories to earn Player of the Week honors in the conference ranked No. 1 in the nation at KenPom.
Jackson is one of three freshmen to average 16 points, six rebounds and 2.5 assists per game this season.
| | | | | |
| --- | --- | --- | --- | --- |
| | PPG | RPG | APG | O-Rating |
| Josh Jackson, Kansas | 16.6 | 7.0 | 2.9 | 109.7 |
| Peter Kiss, Quinnipiac | 16.3 | 6.9 | 3.1 | 97.4 |
| Ryan Daly, Delaware | 17.4 | 7.2 | 2.6 | 109.2 |
The Next Five:
Justin Jackson, North Carolina - The only UNC player who played his best Thursday in the loss at Duke. Leads team with 18.7 ppg, and is shooting a career-high 39.5 percent on 3s. Has recorded an offensive rating of 114 or better in 9 of last 10 games.
Luke Kennard, Duke - Averaged 22.5 points in the two victories last week for the surging Blue Devils, who would've likely lost if not for his scoring in the second half Saturday against Clemson. Hitting 56 percent of 2s and 50 percent of 3s in ACC play.
Nigel Williams-Goss, Gonzaga - Barring a major upset, the Zags should breeze through the remainder of the West Coast Conference schedule and finish the season unbeaten. Williams-Goss has a 123.6 offensive rating and has hit 24 of last 25 free throws.
Bonzie Colson, Notre Dame - The best undersized power forward in the nation (6-5), delivered consecutive spectacular performances in leading the Fighting Irish to two critical wins that ended a four-game losing skid. Colson's numbers? 60 points, 29 rebounds, six blocks, four steals, 19 of 30 on 2-pointers, 3 of 4 on 3-pointers.
Jonathan Motley, Baylor - The Bears won twice last week. Motley averaged 24.5 points and nine rebounds, hitting 21 of 26 2-pointers. He's the best defensive rebounder in Big 12 games and second-best offensive rebounder.